Free online checkers program for Android.
Checkersland Online is a free Android program for playing more than 30 kinds of checkers with other people over the Internet.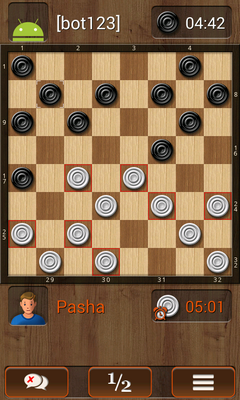 Supported kinds of checkers: 80-cellular, Argentinian, Armenian, Brazilian/German, Canadian, checkers/American, corners (12 draughts), corners (9 draughts), croda, crowded, Czech, diagonal, Filipino, give-away, gothic, Greek, international/Polish, Italian, Jamaican, laska, lika, Malaysian/Singaporean, Mozambican, pool, Portuguese, Russian, Spanish, sparse, Sri Lankian, stavropol, Thai, towers, towers give-away, Turkish Dama
Guest mode without registration is available
Minimal network permissions are required
Supported overall game statistics, players rating and leaderboard
Beautiful interface and several board skins: wood, marble and leather
The game supports more than 10 languages: Deutsch, English, Español, Filipino, Francais, Italiano, Latviešu, Magyar, Polski, Português, Turkce, Česky, Русский, Українська, العربية, ไทย, 简体中文, 繁體中文, 한국어. The program allows to add any new language, see more details in interface of the program translation chapter
Fluid move animation
Moves selection is possible by touching and dragging
Chat with the opponent (for registered users only)
Additional useful settings: sound, possible move highlighting, quick move selection, disable screen dimming or deny screen auto-rotation
The game is optimized very well and its size is about 1 megabyte, so it doesn't take up a lot of space on your phone or tablet
Note, that there are no many online players yet, so you should either wait for other players, or invite your friends.